XSports ® 2401
The XSports ® 2401 is rugged multi-function extreme communications product, providing radical wireless communications functions for impossible situations. The recreational user may be skiing down hill zoning out to Wagner, or snow boarding with extreme prejudice to some shared sounds with the pack, and maintaining voice communications. The amphibious characteristics of our product range will support high energy, high impact operating environments.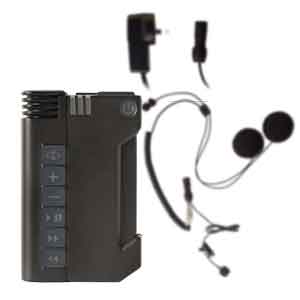 Features
Advanced Digital Signal Processing
Digital noise filtering
Talk in privacy - privacy level encryption
Low power consumption - extended operation time
Intrusion Protection rating - 67 (IP67)
MILSTD 810F
Interface to CB Communications products
Audio annunciation
Lightweight and Compact design
Rugged Construction
Removable belt clip
LED indication
Large Push to Transmit Button
Plug and Play Accessories
Powered by ClarinoxBlue
2 Users stored to caller memory (programmable) *
1 Preferred User *
Critical single button control for function access
Remote PTT capability
USB interface
1 Gbyte microSD
MP3 player
Range - Up to 180m (line of sight) ~ typically 80m
* If your applications requires additional users, models can be software upgraded for up to 100 users and 50 associations with the Push to Transmit button. If you feel your application has these sorts of requirements, please contact Phicom for further information and a quote.