Extreme Sports
Extreme sporting environments demand communication products that can support high energy, high impact use. Whether part of a team where communication of roles and operations forms a critical component in the environment and activity, or enjoying your own sounds, you can rely upon the XSports product range.
Phicom offers a product range to meet your rugged wireless communication needs. Products provide medium range virtual wireless network communication for both voice and data. The products have been specifically designed to allow the edge to be the focus and not the equipment. Large functional buttons, shock resistant and durable case and integrated antenna ensure that the product remains back stage in contrast to where the real action is happening.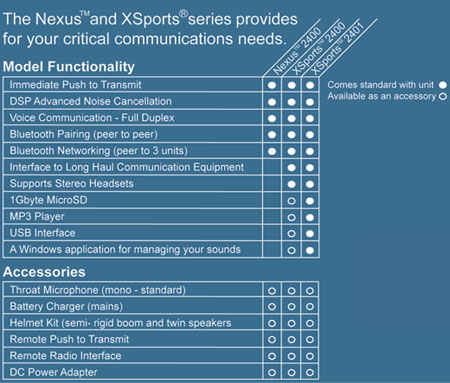 The XSports ® 240x product portfolio gives the recreational user a range of product variants. Variants include an MP3 player and USB interface. Other product variants will provide leaner wireless communication functions for those with simple but demanding communication needs.
Enhanced safety and shared recreational experience for high energy, high impact environments have formed the core basis of our essential design criteria for our entire product range. The MIL STD 810 F design and construction provides confidence for the end user for operation in any environment.